Polenta and Cheese Timbales
Total time: 35 minutes  with quick cooking polenta  
    These slip out of the ramekins easily but still hold their shape making for a very pretty presentation. The Caramelized Shallots add an unexpected crunch!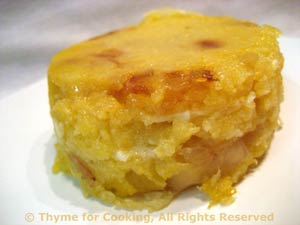 Ingredients:
 Instructions:
Clean and slice shallots. 
Heat oil in medium nonstick skillet over medium-high heat.  Add shallots and sauté until tender, about 5 minutes. 
Turn heat down to medium and continue cooking until nicely brown and starting to caramelize.
Heat stock to boiling in a small saucepan. 
Add polenta, whisking constantly - or it will have little volcanic eruptions spewing polenta all over your stove. 
Turn heat down and cook about 5 minutes (or whatever your package tells you), stirring constantly.  You may have to switch to a wooden spoon. 
When done, remove from heat and stir in caramelized shallots. 
Put 1 tsp oil in each of 2 ramekins; brush around the bottom and sides. 
Divide 1/3 of the polenta evenly between the 2 ramekins. 
Sprinkle each with 1/3 of the cheese, divided. 
Repeat these 2 layers twice more, ending with the cheese on top. 
Place ramekins on a baking sheet, cover loosely with foil, and bake for 10 minutes, 400F (200C). 
Uncover and bake 10 minutes longer. 
Remove and let rest a minutes or two. 
Run a knife around the edges of the ramekin.  Put a plate on top and tip over, releasing the timbale onto the plate.  Serve.
Note:  I'm assuming that your ramekins hold app. 1 cup (8oz, 225ml).  If they are smaller, you may need to make a third ramekin to use all of the polenta - and share it....