Gazpacho de Andaluz
Pork Loin, Brined and Grilled
Pasta with Fresh Tomato and Green Olive Sauce
Fried Green Beans
Fresh Tomato and Green Olive Pasta
Total time: 25 minutes, 3 - 6 hours marinating
  This uses the best of the summer garden: fresh tomatoes and fragrant herbs.  6 - 8 hours is the perfect time for the sauce to blend flavors. The olives tend to loose flavor after a day, so I don't plan leftovers with this.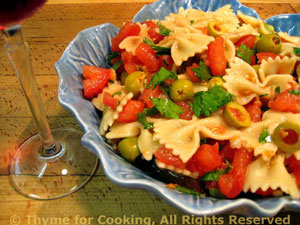 Ingredients:
3 medium - large garden-ripened tomatoes
1/2 cup green olives, pimento stuffed
3 tbs good olive oil, plus 1 tbs if pasta cooked ahead
2 cloves garlic, minced
2 tbs fresh chopped oregano
2 tbs fresh snipped chives
1 tbs fresh chopped parsley
1 cup (2.8oz, 80gr) pasta, farfalle
 Instructions:
Peel tomatoes and roughly chop. Put into a large bowl. 
Cut olives in thirds and add to tomatoes. 
Mince garlic and add. 
Chop/snip herbs and add. 
Pour olive oil over all, stir to combine. 
Cover with plastic wrap and let sit at room temperature for at least 2 hours, 6 or 8 is better. 
When ready to serve:
Cook pasta according to package directions, drain and add to sauce.

Note:

If you cook the pasta ahead, drain and toss with 1 tbs olive oil.  Combine with the sauce when ready to serve - or before leaving on your picnic. 
Note:  The tomatoes, etc. need to sit without the pasta for the sauce to develop and the flavors to meld. 
To Peel Tomatoes:  Bring a medium pan 3/4's full of water to a boil on high heat.  Drop tomatoes in for 30 seconds - start timing immediately.  Remove tomatoes and drop into a bowl of cold water.  If you are doing a lot of tomatoes you will have to add ice or change water to keep it cold.  Now peel them with a knife or your fingers - peel will come off very easily. (You can peel peaches the same way)