Grilled Chicken Breasts with Sage, Rosemary, Lemon
Pasta with Sage and Parmesan
Courgette (Zucchini) and Tomato Gratin
Cabbage Salad
Pasta with Sage, Olive Oil and Parmesan
Total time: 25 minutes
    I love the fried sage leaves, and if you like sage at all, 20 leaves are not too many!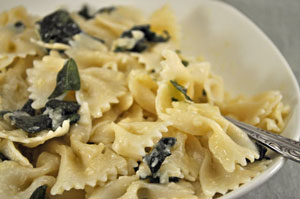 Ingredients:
1 cup (2.8oz, 80gr) dried farfalle pasta
2 tbs olive oil
15 - 20 fresh sage leaves
2 garlic cloves, minced
1/3 cup (1.5oz, 45gr) grated Parmesan - preferably freshly grated
black pepper
 Instructions:
Cook pasta according to package instructions.  Drain. 
In same pan, over medium low, heat olive oil. 
Add sage leaves and minced garlic and sauté for a few minutes. 
Add drained pasta, toss quickly.
Remove from heat and add Parmesan and pepper. Serve.