Grilled Pork Chops with Sage
Pasta with Wild Mushroom Sauce
Sautéed Chard with Feta and Olives
Pasta with Wild Mushroom Sauce
Total time: 25 minutes
   A simple sauce, but using fresh, autumnal wild mushrooms elevates this to something for the most discriminating gourmet.  It's also good with regular button or cremini mushrooms.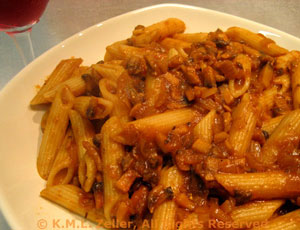 Ingredients:
1 cup (3.3oz, 95gr) uncooked pasta -

fusilli, penne

1 tbs olive oil
4oz (120gr) wild mushrooms,   1 - 1 1/2 cups finely chopped
1/2 large onion
2 garlic cloves, minced
1 tsp paprika
1/3 cup (3oz, 90ml) beef stock
1 tbs tomato paste
 Instructions:
Cook pasta according to package instructions.  Drain.
Finely chop onion, garlic and mushrooms. 
Heat oil in nonstick skillet over medium heat. 
Add paprika and sauté briefly. 
Add onion and sauté until tender, about 7 minutes. 
Add garlic, mushrooms and sauté until everything is well-cooked, another 7 - 8 minutes. 
Add stock and tomato paste, stir well. 
Simmer, uncovered until sauce is thickened. 
Add drained pasta, toss well and serve.