Brown Rice and Beans, Oriental Style
Total time: 25 minutes
    Sauté onions and celery, add red kidney beans (or any color/type of bean) and cooked, brown rice for a nutritious side dish, full of vitamins and fiber.  Use  quick-cooking brown rice to save time.  Flavored with soy sauce, sherry and Balsamic vinegar, this gives 'Beans and Rice' a whole new meaning!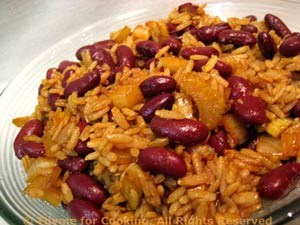 Ingredients:
1/2 cup (3.3oz, 95gr) quick-cooking brown rice
1 cup (8oz, 240ml) chicken stock
1 3/4 cup (15oz, 450gr) red kidney beans
1 onion
2 cloves garlic
1 rib celery  

optional

1 tbs olive oil
1 tsp paprika
1 tbs Balsamic vinegar
1 tbs dry sherry
2 tsp soy sauce
 Instructions:
Cook rice in chicken stock, 15 minutes, or until done (check package directions).
Thinly slice onion and celery.
Mince garlic. 
Open, drain and rinse beans. 
Heat oil in medium nonstick skillet over medium heat.
Add paprika, onions and celery and sauté until tender, 6 - 8 minutes.
Add garlic and sauté 2 minutes longer. 
Add beans, vinegar, sherry and soy sauce.  Heat through. 
Cover and reduce heat to keep warm. 
When rice is done, stir into beans and serve.