Barley 'Risotto' Style, with Leeks or Green Garlic
Total time: 25 minutes
    We try to eat a variety of grains.  I have always loved barley in soup... why not as a side dish?  If you don't have it or like it, substitute Orzo, everything else the same.  My barley cooks in 15 minutes, check your package and increase cooking time if needed.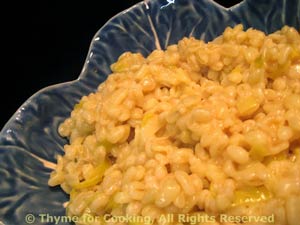 Ingredients:
1 tbs butter
1 - 2 green garlic or

(or 1/2 medium leek plus 1 clove of garlic)

1/2 cup (2.8oz, 80gr) barley, quick-cooking
1/4 (2oz, 60ml) cup white wine
3/4 (6oz, 180ml) cup chicken stock 

(you may need a bit more to keep it creamy - depending on your barley)

1/4 (1oz, 30gr) cup fresh Parmesan cheese, grated
 Instructions:
Melt butter over medium-high heat in small saucepan. 
Add garlic/leek and sauté for 2 minutes. 
Add barley, wine, stock and bring to a simmer on medium heat. 
Turn heat to low and simmer until done, stirring occasionally.  All stock will be absorbed. 
Stir in cheese. 
Remove from heat and serve. It should be loose and creamy, if not add a bit more stock.