Asparagus and Green Garlic Pastry
Baked Snapper with Lemon Sauce
Pimiento Barley
Carrots with Butter and Chives
Barley with Red Pepper
Total time: 20 minutes
   A bit of red pepper adds not only some bright color but some bright flavor to almost any food.   I use quick-cooking barley, which takes about 15 minutes.  Cook in chicken stock for added flavor.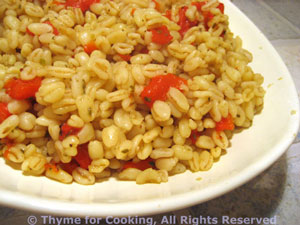 Ingredients:
2/3 cup (3.3oz, 95gr) quick-cooking barley
1 1/3 cups (11oz, 330ml) chicken stock (or more, depending on type of barley)
1/3 cup chopped pimento or roasted red pepper
1 tsp white Balsamic vinegar
2 tsp olive oil
 Instructions:
Cook barley in stock, oregano, covered
Simmer until done, stirring occasionally. If all stock is not absorbed, drain. 
Stir in pepper, vinegar and serve.