Barley with Chives
Total time: 20 minutes
   Barley is not just for soup!  It's a hearty, nutritious grain; easy to cook and flavorful.  I get the quick-cooking barley which takes about 15 minutes.  Cooked in chicken stock and finished with a bit of oil and fresh herbs, it's chewy texture is a fun change from rice or pasta.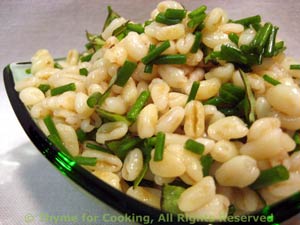 Ingredients:
1/2 cup (2.8oz, 80gr) quick-cooking barley
1 cup (8oz, 240ml) chicken stock (or more, depending on type of barley)
3 tbs fresh, snipped chives
1 tbs fresh, snipped basil
1 tbs good olive oil
 Instructions:
Cook barley in stock until done, stirring occasionally. If all stock is not absorbed, drain. 
Stir in olive oil, herbs and serve.