Sautéed Sliced Potatoes
Total time: 30 minutes
    Thinly sliced raw potatoes, sautéed, undisturbed, in a large skillet.  Let them get nicely browned, turn once or twice and finish with a sprinkle of salt.  They are creamy on the inside; crisp on the outside and incredibly easy.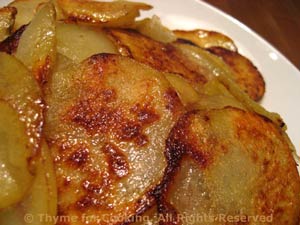 Ingredients:
2 potatoes,  about 12oz total (360gr)
2 tsp olive oil
2 tsp butter
 Instructions:
Slice potatoes paper thin.
Melt the butter in a large nonstick skillet over medium-low heat.
Add the potatoes, arranging in layers.
Drizzle the oil over the top. 
Allow to cook for 15 minutes (Reduce heat further if they start to get too brown).
With a spatula turn in sections - don't worry about being neat.
Continue to cook for another 10 - 15 minutes, until potatoes are done and nicely golden.
Remove, add salt and pepper if you feel so inclined, and serve.