Garlic Oven Fries
Total time: 35 minutes
    Cut in wedges, tossed with garlic and paprika, these oven fries are a flavorful and healthy alternative to traditional Fries.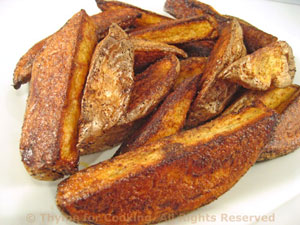 Ingredients:
2 - 3 potatoes, depending on size,  about 12oz (360gr)
4 tsp olive oil
2 tsp white balsamic vinegar
1/2 tsp garlic powder
1 tsp paprika

salt - sea salt is good 

optional
 Instructions:
Slice potatoes the long way - a large potato into 8 wedges and small ones into 6. 
Put oil, vinegar, garlic and paprika into a large bowl and mix well. 
Add potatoes and toss, coating thoroughly. 
Arrange potatoes on baking sheet with rim (I use my trusty, round pizza pan).  Bake at 400F for 30 minutes. You can turn once if you like to fuss but I usually don't bother. 
When done remove from pan and sprinkle lightly with salt and pepper if you choose (I don't) and serve.  These will stay hot for awhile so a 5 or 10 minute delay is okay.