Simple Mashed Potatoes
Total time: 30 minutes
   No garlic, onion or leek.... Simply mashed, with lots of butter, the old-fashioned way.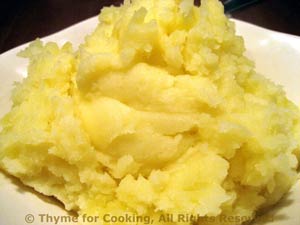 Ingredients:
2 medium potatoes 
2 tbs butter
1 - 2 tbs milk or buttermilk
dash salt
 Instructions:
The potatoes:
Peel potatoes and cut into large chunks. 
Put potatoes in medium saucepan and add just enough water to cover.  Add salt and cover. 
Bring to a boil over medium heat.  When boiling (and pay attention or they will boil over) reduce heat and take cover partially off.  Continue cooking until done, 15 - 20 minutes.  They should be very done, easily coming apart when poked with a fork. 
When done, drain and put back on the heat 10 seconds or so to evaporate any excess moisture.
To finish: 
Mash potatoes with a potato masher (or fork if you don't have one).
Add butter and enough of the milk to get your desired consistency.