Tomato Flan with Couscous Salad
Pork and Celeriac Stew
Mashed Potatoes with Leeks
Mashed Potatoes with Leeks
Total time: 30 minutes
   I always make enough to use in another meal - patties, or Shepherd's Pie, or something....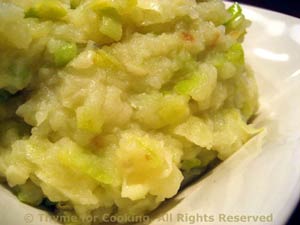 Ingredients:
4 medium potatoes
1 leek
1 tbs butter
2 tbs milk
1/2 tsp salt
 Instructions:
The potatoes:

Peel potatoes and cut into large chunks.
Put potatoes in medium saucepan and add just enough water to cover. 
Add salt and cover.  Bring to a boil over medium heat. 
When boiling (and pay attention or they will boil over) reduce heat and take cover partially off.
Continue cooking until done, 15 - 20 minutes.  They should be very done, easily coming apart when poked with a fork. 
When done, drain and put back on the heat 10 seconds or so to evaporate any excess moisture.

The leeks:

 
Heat butter in a small pan over medium-low heat.  Sauté leeks until soft being careful not to let it brown. 
When tender add the milk.  Cover and keep warm until ready to use in the potatoes.

To finish: 

Mash potatoes with a potato masher (or fork if you don't have one).
Add enough of the leek/milk mixture to get your desired consistency. 
If, after adding all of it, the potatoes are still too stiff, add a bit more milk.