Asparagus Pastries with Tarragon Cream
Stuffed Pork Tenderloin on Caramelized Onions
Cheddar Mashed Potatoes
Cheddar Mashed Potatoes
Total time: 30 minutes
   Lightly stir the shredded cheddar into the hot potatoes just before serving; some will melt into the potatoes giving them a lovely golden color, some will turn into trails of molten cheese.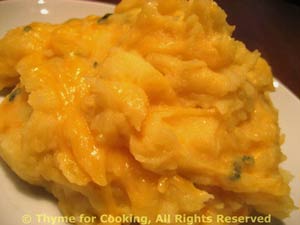 Ingredients:
2 medium potatoes
1/2 cup (2oz, 60gr) cheddar cheese, shredded
2 tsp butter
1 - 2 tbs milk
1 tsp fresh or dried chives
dash salt
 Instructions:
The potatoes:
Peel potatoes and cut into large chunks.  Put potatoes in medium saucepan and add just enough water to cover. 
Add salt and cover.  Bring to a boil over medium heat. 
When boiling (and pay attention or they will boil over) reduce heat and take cover partially off.  Continue cooking until done, 15 - 20 minutes.  They should be very done, easily coming apart when poked with a fork. 
When done, drain and put back on the heat 10 seconds or so to evaporate any excess moisture.
To finish: 
Mash potatoes with a potato masher (or fork if you don't have one).
Add butter and enough of the milk to get your desired consistency.
Add half the cheddar and stir well.
Add the remaining cheddar and stir lightly.