Chicken Breast with Lemon and Honey
Grilled Potatoes, Peppers, and Onions
Southwestern Lentils, leftover
Grilled Potatoes, Peppers, and Onions
Total time: 35 minutes 
   Another summer staple: grilled vegetables!  If you have a proper mesh grill pan, perfect.  If not use any old metal pan (cake pan, pie pan, foil pan, whatever) that is designated for permanent grill use  - the bottom will be blackened...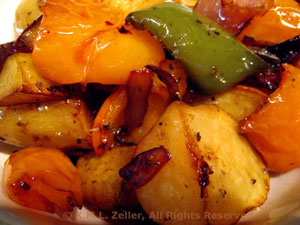 Ingredients:
 Instructions:
Slice peppers and onion (either vertically or horizontally - tastes the same) into thick slices.
Slice potatoes in half the long way, then in half again. Then slice in half or thirds the short way. 
Snip herbs. 
Put herbs, olive oil, lemon and soy sauce in a large bowl, add all vegetables and toss well to coat. 
Put into 'grill pan' (a metal or foil pan dedicated to use on the grill) or onto a mesh grill pan (the idea is not to have the stuff fall through the grate into the fire....) Cook over medium heat 20 - 30 minutes, until vegetables have a nice color and potatoes are done. 
Serve.