Pork Tenderloin, Oriental Barbecue
Grilled Potatoes
Oriental Zucchini, (Courgette)
Grilled Potatoes   
Total time: 35 minutes
    Simple, grilled or roasted potatoes are perfect with equally simple, grilled meats.  Vary the herbs, Worcestershire, etc. according to the rest of the meal.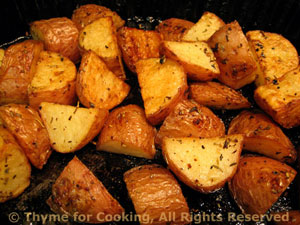 Ingredients:
2 medium potatoes
1 tbs olive oil
2 tsp Worcestershire sauce
1 tsp paprika
1 tsp rosemary
salt and pepper
 Instructions:
Slice potatoes in half the long way, then in half again.   Then slice in half or thirds the short way. 
Put remaining ingredients into large bowl and mix well. 
Add potatoes and stir, coating thoroughly.
Put them into an old metal pie plate or cake tin or foil barbecue container (or whatever) that you will never use for any purpose but the barbecue again...  and you should have one of these.  Cook on barbecue (grill) for 25 - 30 minutes or until done... and you will need to stir them with a long-handled wooden spoon occasionally as they tend to develop 'hot spots' and can get a little crispy.

Or

you can roast them in the oven.  Arrange potatoes on baking sheet with rim (I use my trusty, round pizza pan) Bake at 400F for 30 minutes.