Wild Mushroom Omelet
Chicken Breasts Stuffed with Cheese and Sage
Grilled Potato and Onion Salad
Grilled Potato and Onion Salad
Total time: 35 minutes
   If you can get large, sweet onions, like Vidalia, they would be great here.  I used 2 red onions, also good! We used the same basket that we use for hamburgers.  If you don't have a basket, use a mat or grill pan. They get very light and very crisp!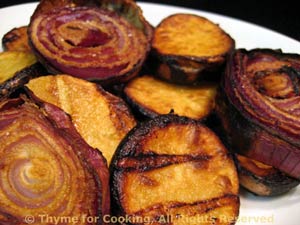 Ingredients:
2 medium potatoes
1 large sweet onion or 2 smaller red onions 
1 tbs Dijon-style mustard
1 tbs red wine vinegar
1 tbs olive oil
1 tsp sugar
 Instructions:
Slice potatoes and onions thickly, 1/3" (1cm). 
Put the sugar, vinegar, mustard and oil into a bowl and mix well. 
Brush or spoon mixture onto both sides of the potatoes and onions. 
Lay them flat in a hinged grill basket or into the trusty pan you use to grill vegetables.  
If using a basket grill 10 - 15 minutes per side, or until done, part of the time over direct heat. 
If using a grill pan start over direct heat for about 10 minutes, turning after 5. 
Then move to indirect heat for 10 - 15 minutes, or until vegetables are tender and nicely browned. 
Remove and serve.

Note: 

Could be roasted in 425F (210C) oven for 30 minutes, turning once.