Potato and Chard Gratin 
Total time: 70 minutes
   A simple, dish with few ingredients, this highlights the fresh taste of chard (Swiss Chard) in summer.  Use a deep dish and pile it high.  It wilts and compacts as it bakes.  Add the cheese at the end or it all ends up on the foil.  The top layer of potatoes looks a bit strange balancing on top of the chard, but it all comes together.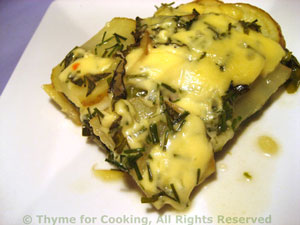 Ingredients:
2 medium potatoes (10oz, 300gr)
8oz (240gr) (Swiss) chard, stems and leaves
1/2 cup (4oz, 120ml) chicken stock
2 tbs chopped fresh parsley
2 tbs chopped fresh chives
2oz (60gr) cheese,

Gruyère, Edam, Swiss

1 tsp olive oil
 Instructions: