Warm Stuffed Endive Salad
Peppered Pork Tenderloin with Red Wine Reduction
Potato Feta Cakes
Braised Red Cabbage
Potato and Feta Cakes
Total time: 40 minutes
   I like Potato Cakes well enough that I don't always wait for leftover mashed potatoes to make them. The potatoes only take about 12 minutes to cook, and they are a bit drier than traditional mashed, letting the cakes stay together well, even with the feta.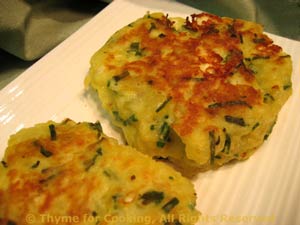 Ingredients:
2 medium potatoes, (12oz, 360gr)
3oz (90gr) feta cheese
2 tbs dried chives
1 egg
2 tsp milk
1 tbs olive oil
 Instructions:
Peel the potatoes and cut into chunks. 
Cook in rapidly boiling water until very tender, 12 - 15 minutes. 
Drain the potatoes and mash with a fork or potato masher. 
Spread the mashed potatoes on a plate to cool for 5 minutes. 
Cut or crumble feta into small pieces (pea size).
In medium bowl whisk egg, milk and chives. 
Add potatoes and mix well. 
Stir in feta. 
Divide into 4 equal portions. 
Heat oil in large nonstick skillet.  Add potato portions, forming into patties in the skillet, about 1/2" (1.25cm) thick. 
Fry until brown on one side, about 7 minutes.
Turn and brown the other side.  Remove and serve.