Asparagus Pastries with Tarragon Cream
Stuffed Pork Tenderloin on Caramelized Onions
Cheddar Mashed Potatoes
Stuffed Pork Tenderloin on Caramelized Onions
Total time: 45 minutes
    Pork tenderloin lend itself very well to stuffing. Here we stuff it with savory mushrooms and roast it on a bed of onions.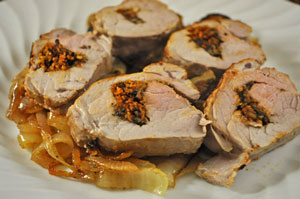 Ingredients:
14oz (420gr) pork tenderloin
3 tbs olive oil - 1 for stuffing and 2 for basting
1 1/2 tsp paprika
1 clove garlic
1/3 cup chopped mushrooms, about 1oz (3gr)
2 tbs dry bread crumbs
1 tsp dried basil
2 tbs red wine vinegar

Caramelized Onions

1 1/2 onions
1 tbs butter
2 tbs red wine vinegar
2 tbs brown sugar
 Instructions:
The stuffing:

 

Chop mushrooms and mince or crush garlic.

Heat 1 tbs olive oil in small skillet over medium heat. Add paprika and sauté for 1 minute.
Add mushrooms and garlic and sauté for 3 - 4 minutes, until starting to brown and soften.
When mushrooms are done put into a small bowl and add bread crumbs and basil; mix well.

The pork:

Butterfly pork tenderloin - cut it in half lengthwise leaving 1/4 inch intact along the edge, so that you can open it like a book.

Open it and give it a couple of whacks with a meat mallet so that it lies flattish... or pound lightly with the edge of a plate.  You just want it to be flat and easy to work with.
Spread mushroom mixture on one side of pork about 1/8 inch from the edge. 
Fold other side over and tie with kitchen string.  Cut five 6 inch lengths of string and wrap around pork and tie every 2 inches - making certain that you do one as close to each end as possible.

Caramelized Onions

 

these are started in a skillet and finished in the oven

Slice onion thickly.
Heat butter in a nonstick skillet over medium-high heat.  Add onions and sauté until tender, about 5 minutes.
Add vinegar and brown sugar.  Stir well to melt sugar and combine.
Spoon onions into a small roasting pan, arranging so pork will just fit on top.

The rest:

In a small bowl whisk together remaining 2 tbs olive oil and vinegar.

Place pork on onions and roast in 400F (200C) oven for 30 - 40 minutes, depending on size, until done, basting periodically with oil/vinegar mixture.
When done, slice and serve. It is done when 'juices run clear', so - either poke it, slice it and take a peak or, best method, use a meat thermometer.  Pork is done when internal temperature reaches 155F.