Pork Tenderloin Braised with Apples and Onions
Total time: 30 minutes
    There is something about apples, pork and fennel that just goes so well together.  The apples will be very soft, but the skin will help them hold their shape for a lovely presentation.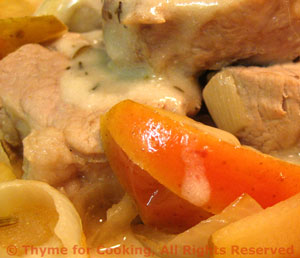 Ingredients:
 Instructions:
Thinly slice the onion and finely chop the garlic. 
Cut the apple into 12 wedges. 
Slice the tenderloin into 1 inch (2.5 cm) thick slices. 
Sauté onion and garlic in oil in nonstick skillet over medium-high heat until tender, about 4 minutes. 
Add fennel seeds and sauté 1 minute longer. 
Move onions to the side and add sliced pork.  Brown slices on both sides, about 5 minutes total. 
Add apple slices around pork. 
Combine thyme, stock, wine and mustard.  Pour over pork and apples. 
Reduce heat to low, cover and simmer 15 minutes.  
Dissolve cornstarch in chicken stock. 
Uncover skillet and remove pork to small platter. 
Increase heat and add cornstarch mixture.  Stir gently until sauce is thickened. 
Add yogurt and stir to combine. 
Spoon apples and onions around pork and serve.