Swiss-Style Pork Chops 
Total time: 45 minutes
    Pork chops, smothered in tomatoes, peppers and onions, in the style of old-fashioned Swiss Steak, are fork tender and chock-a-block with flavor.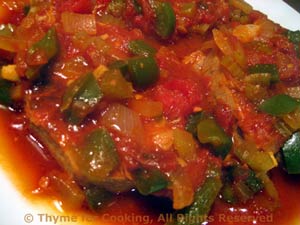 Ingredients:
2 - 3 boneless pork chops, (12oz, 360gr total weight)
2 tsp olive oil
1/2 green bell pepper
1/2 onion
1 rib celery
2 cloves garlic
1 3/4 cups (15oz, 450gr) tomatoes with juice
1 tbs Worcestershire sauce  
 Instructions:
Heat oil in a heavy skillet with a tight-fitting lid.  Add chops and brown on both sides, about 6 minutes total.
Roughly chop pepper, celery and onion. 
Mince garlic. 
Move chops to one side (stack them up) and add vegetables to pan.  Sauté, stirring, for 1 - 2 minutes, just to soften slightly. 
Arrange chops on vegetables. 
Open tomatoes and drain juice onto chops.  Roughly chop tomatoes and add to pan along with Worcestershire sauce.
Bring to a boil, cover, reduce heat and simmer 35 minutes.  
Uncover, cook down a bit if you like, and serve. 
Note:  For really tender chops, braise for another 30 minutes or cook in a crock pot.