Braised Pork Chops with Peppers and Olives 
Total time: 25 minutes
     Pork chops, quickly seared to caramelize the surface, then braised for 15 minutes with peppers, olives and a bit of spicy tomato sauce makes an easy weeknight dinner.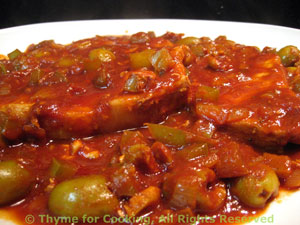 Ingredients:
2 - 4 pork chops, depending on size, (12oz, 360gr) total weight
2 tsp olive oil
2 tsp chili powder
1 onion
1/2 green or red bell pepper
1/2 cup green or black olives
2 cloves garlic
1 cup (8oz, 240ml) tomato sauce
1 tbs Worcestershire
 Instructions:
Chop onion and pepper.
Mince garlic.
In medium nonstick skillet heat oil over medium-high heat.  Sauté pork chops until lightly browned, about 3 minutes per side.
Remove and set aside.  Add chili powder, onions, garlic, pepper to pan and sauté 5 minutes.
Return chops to pan.
Add tomato sauce, Worcestershire sauce and olives.  Reduce heat to low, cover and simmer 10 - 15 minutes, until chops are done and tender.
Serve.