Grilled Teriyaki Pork Chops
Zucchini (Courgette) Potato Cake
Grilled Teriyaki Pork Chops  
Total time: 25 minutes
    Sometimes we just have to be easy... And it's not easy to duplicate a bottled Teriyaki sauce!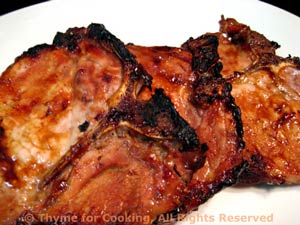 Ingredients:
2 - 4 pork chops, depending on size  12oz (360gr) boneless, 16oz (480gr) bone-in
4 - 5 tbs Teriyaki marinade
 Instructions:
Pour marinade over chops. and let marinate for 10 minutes. 
Remove from marinade and cook on barbecue 10 - 15 minutes turning once or under broiler for 12 - 15 minutes turning once - or sauté in large skillet 10 - 15 minutes (you get the picture). 
Baste with any remaining marinade. 
In all cases it depends on thickness and test for doneness by slicing and peaking.   Remove and serve.