Grilled Chili Chops
German Potato Salad, leftover
White Balsamic Glazed Carrots
Grilled Chili Chops
Total time: 30 minutes
      Do 2 boneless chops or 3, thinner, bone-in chops.  It all depends on availability and your appetite.  The marinade adds a zesty flavor to the pork and helps keep them tender as they cook.  Remember, slightly pink is okay, too done dries them out, and makes them rather tough.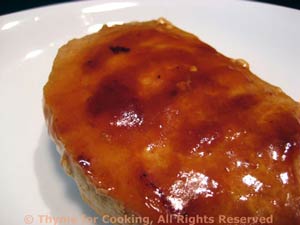 Ingredients:
2 - 4 pork chops, 12oz total (360gr) 
1 clove garlic minced or crushed
1 tsp dried oregano
1 tsp chili powder 

or more

1/4 cup ketchup
1 tbs soy sauce
1 tbs olive oil
 Instructions:
Mix garlic, oregano, chili powder, ketchup, soy sauce and oil. 
Spoon over chops and let marinate for 10 - 20 minutes. 
Cook on barbecue for 5 - 8 minutes a side or until done.  Should be slightly pink near bone when done - take a peak (techniques). 

Or

fry in nonstick skillet over medium-high heat the same amount of time. 
Baste both sides of chops with marinade once when turning.