Pork Chops, German-Style
Sautéed Paprika Potato Rounds
Cauliflower with Paprika Crumbs
Pork Chops, German Style
Total time: 35 minutes
    Braised pork chops, flavored with beer (or wine) and paprika, make a warming dish for cold weather.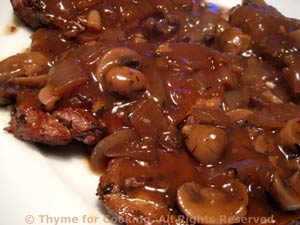 Ingredients:
 Instructions:
Clean mushrooms, cut in half or quarters if large. 
Peel and thickly slice onion. 
Heat oil in large nonstick skillet over medium high heat. 
Add pork chops and brown, about 5 minutes per side.  Remove. 
Reduce heat to medium.  Add paprika and sauté briefly, about 30 seconds. 
Add onions and sauté 3 minutes. 
Add garlic and mushrooms and sauté 5 minutes longer. 
Add beer or wine and deglaze pan, stirring up any browned bits. 
Add chicken stock and thyme. 
Return chops to pan, cover, reduce heat and simmer until chops are cooked through and tender, about 15 minutes longer. 
Remove chops and keep warm.  Increase heat to medium-high. 
Dissolve cornstarch in water.  Add to sauce, stirring until thickened and cleared.  Pour over chops and serve.