Pork Chops with White Wine and Capers
Total time: 35 minutes
    Boneless pork chops, quickly browned then simmered in a white wine caper sauce.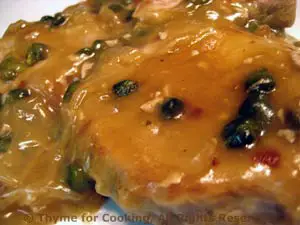 Ingredients:
2 - 3 boneless pork chops, 12oz (360gr) total weight
3 tbs flour
3 tbs capers
1 clove garlic
1 tbs olive oil
1/2 cup (4oz, 120ml) beef broth
1/2 cup (4oz, 120ml) white wine
 Instructions:
Spread flour on a plate.  Dip both sides of pork chops in flour, shaking off excess. 
Heat oil in a nonstick skillet over medium-high heat.  Add pork and brown on both sides, about 5 minutes each. 
Finely chop the garlic.  Add garlic and sauté 30 seconds. 
Add stock, white wine and capers, cover, reduce heat to low and simmer 15 minutes.  
Uncover, increase heat and simmer until sauce has reduced and thickened slightly.
Remove and serve.