Roast Lamb, Breton-Style 
Total time: 60 minutes
    I love beans or lentils with lamb.  These are simmered with sage and rosemary, then stirred into the pan juices from the roasted lamb.  I used a partially boned saddle of lamb that weighed 28oz (850gr), for a bone-in leg you'd want about closer to the 3 lbs (1.5kilo) To roast it properly, a meat thermometer is invaluable.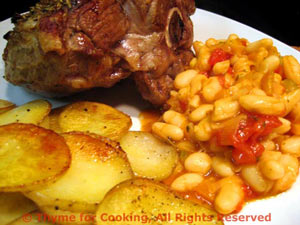 Ingredients:
The Lamb
lamb for roasting, leg, shoulder, saddle, 2 - 4 lb, (1000-2000 gr) depending on bone
1 tsp dried rosemary
2 cloves garlic
The Beans
19oz (570gr) cannellini (white kidney beans)
1 leek
1 carrot
1 rib celery
2 cloves garlic
2 tsp olive oil
1 tbs dried sage
1 tsp dried rosemary
15oz (450gr) whole tomatoes
2 tbs white wine
2 tbs chicken stock
 Instructions:
Lamb: 
Peel and cut garlic into slivers, 10 - 12 in all. 
Make slits all over the lamb with the point of a sharp knife.  Insert a sliver of garlic into each slit. 
Sprinkle with rosemary. 
Place the lamb in a roasting pan just large enough to hold it easily.  Roast in 450F (230C) oven for 20 minutes.  
Reduce the oven temperature to 400F (200C) and roast for another 15 minutes per pound, or until done to your liking.  If the pan juices start to burn add a couple of tbs of hot water.  Use a meat thermometer, if you have one and roast to 130F (54C) for rosy, or cut and peak. 
When done, remove the lamb, cover loosely with foil and let rest.  
Add beans and stock to pan, scraping and stirring with a spatula to get all the browned bits. 
Beans: 
Clean and slice leek. 
Chop celery, carrot
Mince garlic. 
Drain beans. 
Heat oil in medium skillet.   Add leeks, celery, carrot and garlic and sauté until tender, about 10 minutes. 
Add herbs and beans. 
Drain tomatoes, reserving juice for another use. 
Roughly chop tomatoes and add to beans. 
Cover reduce heat and simmer, stirring occasionally, 15 minutes or until carrots are tender. 
To Serve:
Spoon beans onto a platter.  Slice some of the lamb, arrange on beans and serve.