Recipe in:
One Dish Dinners
  (Stir-Fries and Skillet Dinners)
Stir-Fried Turkey with Cabbage and Cashews
Total time: 30 minutes
     You can use turkey cutlets for this, sliced into strips, or part of a larger turkey tenderloin, freezing the rest for another time, or even ground turkey... or chicken breasts....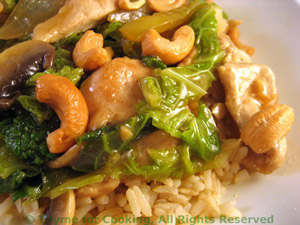 Ingredients:
10oz (300gr) turkey cutlets or tenderloin
1 onion
2 cloves garlic
1 tbs minced ginger substitute 1/2 tsp dried
1 rib celery
1/2 green pepper 
1/3 head Savoy cabbage
4oz (120gr) mushrooms
1/4 cup cashews  substitute peanuts, almonds
1 tsp sesame oil
2 tsp olive oil
2 tsp soy sauce
1/2 cup (4oz, 120ml) chicken stock
1 tbs sherry (optional)
1 tbs peanut butter
2 tsp cornstarch (Maizena) dissolved in 1 tbs water
Brown Rice
1/2 cup (3.3oz, 95gr) quick-cooking brown rice

1 cup (8oz, 240ml) chicken stock   

  

or whatever your rice calls for
 Instructions:
Thinly slice onion.
Mince garlic.
Mince ginger (peel first).
Cut pepper into matchsticks.
Slice the celery at an angle.
Trim and slice mushrooms.
Remove dark green outer leaves from cabbage. Cut off a thick slice, avoiding the core. Lay flat, cut into 3 or 4 wedges, then thinly slice the wedges.
Cut the turkey into strips - bite-size.
Heat olive oil in large nonstick skillet over medium-high heat.
Add onion, celery, mushrooms to skillet and stir-fry for 2 minutes.
Add garlic, ginger and stir-fry another 2 minutes.
Remove onions/garlic from pan and set aside.
Add sesame oil, soy sauce to pan and heat.
Add turkey and stir-fry 3 - 5 minutes, until golden. Remove and put with onions. 
Add cabbage, pepper to skillet and stir-fry 5 minutes.
Return turkey, onions, celery, mushrooms, garlic and ginger to pan.
Add chicken stock, sherry, peanut butter and bring to a boil.
Cover, reduce heat and simmer for 3 minutes.
Dissolve cornstarch in water.
Uncover, add cornstarch mixture and stir until thickened.
Arrange rice on a small platter.
Spoon turkey and vegetables into the center, sprinkle with cashews and serve, adding more soy sauce if desired.

Brown Rice 

Cook rice according to package instructions.