Recipe in:
One Dish Dinners
  (Stir-Fries and Skillet Dinners)
Stir-Fried Chicken with Snow Peas (Mangetout)
Total time: 25 minutes
   A lighter, fresher stir-fry, with snow peas, cherry tomatoes and water chestnuts.  Add the tomatoes, left whole, at the last minute.  They'll cook very quickly.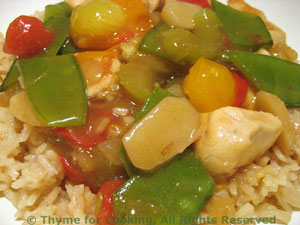 Ingredients:
2 chicken breasts
4oz (120gr) snow peas (mangetout)
4oz (120gr) cherry or grape tomatoes, any color
4oz (120gr) water chestnuts 

1 small can or tin

1 medium onion 
2 ribs celery
2 cloves garlic
2 tsp minced, fresh ginger
2 tsp olive oil
2 tsp soy sauce
1 cup (8oz, 240ml) chicken stock
1 tbs cornstarch (corn flour, maizena)
1 tbs sherry
1 tbs water
Basmati rice:
1/2 cup (3.3oz, 95gr) Basmati rice
1 tsp butter
1 cup (8oz, 240ml) chicken stock
 Instructions:
Basmati Rice:
Melt butter in small saucepan over medium heat. 
Add rice and sauté, stirring for 2 - 3 minutes. 
Add stock, cover and cook rice for length of time on package. 
Stir-Fry:
Cut chicken into bite-size pieces. 
Mince garlic. 
Peel a small section of ginger, cut into thin slices, then mince.
Cut onion into quarters, lengthwise, then slice thinly. 
Trim snow peas and cut in half at an angle. 
Open and drain water chestnuts, slice. 
Slice celery at an angle.
Heat oil in large skillet. Add onion and sauté 3 minutes. 
Add garlic, ginger, snow peas, water chestnuts, celery and sauté 5 minutes longer. 
Remove vegetables to a plate. 
Add chicken to skillet and sauté 5 minutes. 
Add soy sauce, stock, cover and simmer 5 minutes.
Uncover, return vegetables to skillet and increase heat.
To finish:
Dissolve cornstarch in sherry and water. Add to skillet and stir until thickened. 
Add the cherry tomatoes and stir well. 
Remove from heat and cover and let rest for a minutes or two to finish the tomatoes.
Spoon over rice and serve.