Chicken Mushroom Chowder
Total time: 35 minutes
    I used chicken breasts, but thighs would work as well. Either way, used skinned chicken to save on fat and calories. Because everything is sautéed briefly this is a quick-cooking soup; because it's a chowder, it's very thick. Add more stock or milk if you prefer it thinner.  This is enough for 2 meals or 4 persons.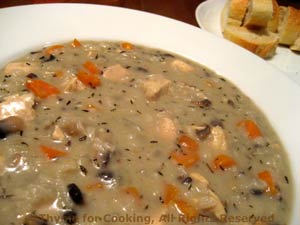 Ingredients:
2 chicken breasts
8oz (240gr) mushrooms  an interesting, forest variety if possible
2 onions
4 cloves garlic
4 - 5 carrots
3/4 cup (5oz, 150gr) basmati rice
2 tbs butter
2 tbs oil
4 tbs flour
4 - 5 cups  (32 - 40oz, 960 - 1200ml) chicken stock, depending on how thick you like it... personal taste
1 tsp thyme
1 cup (8oz, 240ml) milk
 Instructions:
Cut chicken into bite-size pieces. 
Chop onion. 
Mince garlic. 
Clean and roughly chop mushrooms and carrots.   
In a large saucepan heat butter and oil over medium heat. 
Add chicken and sauté 2 minutes. 
Add onions and sauté 3 minutes. 
Add garlic, mushroom, carrots and sauté 3 minutes. 
Add flour and sauté 30 seconds. 
Slowly stir in chicken broth, stirring constantly. 
Add thyme and rice. 
Bring to a boil, reduce heat, cover and simmer 20 minutes or until rice is done. 
Uncover, stir in milk and heat through.  Serve.
For leftover chowder.....
Chicken and Mushroom Chowder 'Vesuvius'  
Total time: 15 minutes
   
If one can put an egg on pizza, why not add one to soup?  A poached egg nestled in the center of the chowder adds interest, flavor and a bit more protein to stretch the leftovers.  Plus, it's delicious!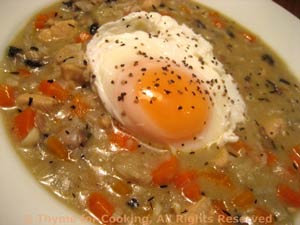 Ingredients:
Chicken Mushroom Chowder
chicken stock, optional
2 eggs
3 tbs vinegar,  any flavor, it's to help keep the eggs shaped nicely
 Instructions:
Gently reheat soup.  If it's too thick, thin with a bit of chicken stock
While soup heats poach egg: Fill a large skillet with water.  The water should be at least 1 1/2 inches deep, 2 inches (5 cm) would be better. 
Heat water over medium-high heat.  Add vinegar. 
When water is softly boiling poach eggs: one at a time break egg into a small saucer.  Swirl a spoon in the water where you will put the egg - off to one side.  When water is swirling drop egg into center.  With slotted spoon try to keep the white together. 
Do next egg. 
With regular spoon scoop some hot water over tops of eggs.
Poach for 3 - 4 minutes or until white is set but yolk is still very soft.
 When eggs are almost done ladle soup into bowls.  Remove eggs with a slotted spoon, drain briefly and gently add to soup.  Serve.