Cabbage Soup with Ham and Vegetables
Total time: 60 minutes
   Many vegetable soups use regular, white cabbage.  I decided to make one featuring Savoy or green cabbage.  With a slice of ham from the deli counter, this goes together quickly for a warming, winter meal.  Stirring in a bit of cornstarch at the end gives the broth a more luscious 'mouth feel'.  This is enough for 4 servings.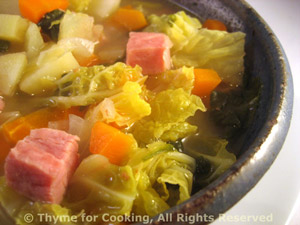 Ingredients:
3 medium potatoes
4 medium carrots
3 ribs celery
1 large onion
2/3 Savoy cabbage, 4  - 5 cups
10oz (300gr) baked or pink ham
1 tbs olive oil
2 bay leaves
1 tsp Herbes de Provence
6 - 8 cups chicken stock 

or water plus ham base

2 tbs cornstarch (maizena) dissolve in 1/4 cup water
 Instructions:
Roughly chop onion. 
Peel carrots; then slice by cutting in half the long way (in 2 or more sections) then into half or quarter circles. 
Peel and slice potatoes to a similar size. 
Slice celery, cutting the wide end in half lengthwise. 
Cut ham into small pieces. 
Remove dark green outer leaves from cabbage. Cut off a thick slice, avoiding the core. Lay flat, cut into 3 or 4 wedges, then thickly slice the wedges. 
Heat olive oil in a medium soup pot. Add onion and sauté until it starts to get tender, about 5 minutes.
Add celery and sauté 5 minutes longer.
Add ham and sauté briefly.
Add carrots, potatoes, cabbage, herbs and stock. Cover and simmer until vegetables are tender, 30 - 40 minutes.
To finish:
Remove bay leaves.
Dissolve cornstarch in water.
Uncover soup and increase heat.  When simmering hard, add cornstarch, stirring until it clears. Serve.