Warm Pasta with Baked Chevre (Goat Cheese)
Total time: 25 minutes
   This is a cross between a hot, winter pasta dish and a cool, summer salad.  Breading the cheese keeps it firm. The goat cheese normally comes log-shaped (long, round), and wrapped in paper.  It will have a thin rind that is an edible part of the cheese.  You could substitute another, semi-soft cheese such as Brie or Camembert.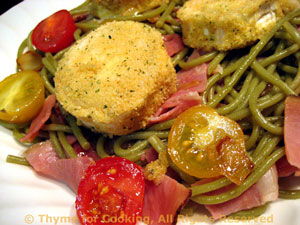 Ingredients:
 Instructions:
Cook pasta according to package directions. 
Drain and toss with 1 tbs olive oil. 
Peel and roughly chop shallot.
Cut Prosciutto into bite-size pieces. 
Cut tomatoes in half. 
Heat 2 tbs olive oil in medium nonstick skillet. 
Add shallots and sauté until starting to brown, about 15 minutes. 
Add Prosciutto, and sauté 2 - 3 minutes longer. 
Add cherry tomatoes and heat through. 
Add vinegar and pasta, and stir/toss to combine. 
Remove from heat.  
Slice cheese into 4 to 6 rounds. Each round should be between 1/3 and 1/2 inch thick (about 1cm).
Put bread crumbs on one plate and 1 tbs olive oil on another plate.
Roll the edges of the cheese in the oil, then dip both sides, so it's completely coated.
Repeat procedure in the crumbs - so each slice is coated. 
Place on a baking sheet. Bake, 400F (200C) for 3 - 4 minutes, just until you see the tops sink slightly or cheese ooze slightly.  If it hasn't happened after 4 minutes, take them out anyway - they're ready.

To serv

e:  Divide pasta between 2 plates. 
Top with rounds of cheese and serve immediately.