Warm Leek Salad with Prosciutto
Pan-Seared Tuna with Capers
Basmati Rice Pilaf
Cauliflower Cheese
Pan-Seared Tuna with Capers
Total time: 15 minutes
     This is best with good sushi-grade tuna that is quickly seared on both sides and cool or just barely warm in the center.  If you get regular tuna you will need to cook it until it is closer to medium - well. Ask your fish monger (I love that word)... or the guy behind the counter.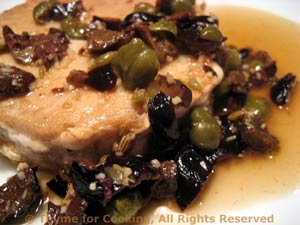 Ingredients:
2 tuna steaks, 6oz each (180gr)
1 tsp fennel seeds
1 clove garlic
1 tbs olive oil
2 tbs capers
3 tbs chopped olives - kalamata or Greek black (or green if that is what you have)
1 tbs lemon juice
1/2 cup (4oz, 120ml) cup white wine
 Instructions
Mince garlic.
Chop olives.
Heat oil in large nonstick skillet over medium-high heat.
Add garlic, fennel seeds and sauté 1 minute.  Remove and reserve.
Add tuna and sauté 3 - 5 minutes per side (depending on thickness - 3 minutes if 1 inch (2.5 cm), 5 minutes if 2 inch (5 cm)) for medium-rare, longer if you want them more done.
Remove and cover with a lid or foil to keep warm.
Return fennel and garlic to pan and add rest of ingredients.
Bring to a boil and boil 2 minutes.
Pour over tuna and serve.