Asparagus and Green Garlic Pastry
Baked Snapper with Lemon Sauce
Pimiento Barley
Carrots with Butter and Chives
Baked Snapper with Lemon-Mustard Sauce 
Total time: 15 minutes
    Walleye would be my first choice but that isn't available here.  Any nice filet will work, small cod, tilapia, catfish...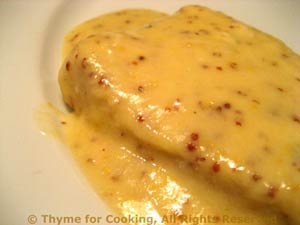 Ingredients:
2 nice fish fillets, snapper, walleye, 12oz (360gr) total weight 
1 tbs butter
2 tbs lemon juice
1/2 tsp tarragon
1/2 tsp thyme
2 tbs chicken stock
1 tbs whole grain mustard
1/3 cup (3oz, 90ml) Greek yogurt, crème fraiche or sour cream
 Instructions:
Rinse fish, pat dry. 
Melt butter. 
Add 1 tbs lemon juice, tarragon and thyme to butter. 
Brush on fish fillets.  Bake, 400F (200C), for 15 - 20 minutes, until fish is done.  It should be opaque and flake easily with a fork. 

Or

grill the fish in a grill basket, over indirect heat on the barbecue grill for about the same amount of time.
Spoon Lemon-Mustard Sauce on top and serve.
Lemon-Mustard Sauce:
Combine remaining 1 tbs lemon juice, stock, mustard and yogurt.  Mix well.