Spinach Salad with Warm Chevre
Pasta with Scallops and Shrimp (Prawns)
Cauliflower with Horseradish
Pasta with Scallops and Shrimp
Total time: 25 minutes
     By sautéing the shrimp and scallops in garlic butter they get a robust flavor offset by the creamy cheese sauce... If you don't normally have milk on hand use part chicken stock and part white wine- different sauce, equally good! I used spinach fettuccini.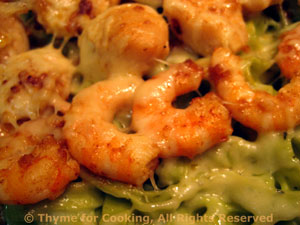 Ingredients:
6oz (180gr) sea or bay scallops  

I had 8 large sea scallops

6oz (180gr) shrimp, cleaned
1 tsp paprika
2 cloves garlic
2 tsp olive oil
1 tsp butter
1/2 cup (4oz, 120ml) milk
1/2 cup (4oz, 120ml) chicken stock
1/2 cup (2oz, 60gr) shredded Gruyère cheese
2 tbs dry sherry
1 tbs cornstarch (corn flour, maizena)
2 tsp dried parsley  

substitute 2 tbs fresh

1/4 cup (1oz, 30gr) freshly grated Parmesan

4oz (120gr) fettuccini, spaghetti, linguini or other long pasta

 
 Instructions:
Cook pasta according to package directions. 

The sauce:

 
Heat stock and milk to boiling in small saucepan.
Dissolve cornstarch in sherry and add to saucepan, stirring and cooking until sauce has thickened.
Reduce heat to low and gradually add the shredded cheese, stirring constantly.
Stir in the parsley.
Turn off heat, and cover saucepan to keep warm until needed.

The seafood: 

Clean shrimp if needed.
Mince garlic.
Heat butter and oil in a nonstick skillet over medium-low heat.  Add paprika and sauté briefly.
Add garlic and sauté until golden, 2 - 3 minutes.
Turn heat up to medium and add scallops and shrimp.  Sauté until shrimp start to curl and both start to turn opaque, turning once.  This should not take longer than 3 - 5 minutes.  Remove from heat and keep warm. 

To finish:

When pasta is done, drain well and return to cooking pan.
Add sauce and toss well to coat.
Put pasta in a bowl if serving immediately or a baking dish just large enough to hold everything if not.
Arrange scallops and shrimp on top and sprinkle with Parmesan. 
Either serve immediately or put into a warm oven (250F, 120C) for up to 15 minutes to keep hot.