Grilled Salmon with Warm Tomato Leek Salsa
Total time: 20 minutes
    Salmon is the perfect fish for grilling and smoking: a light brushing of olive oil and a few herbs are all it needs.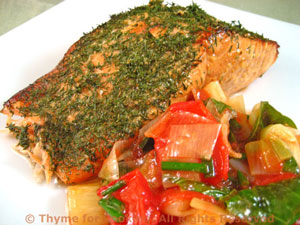 Ingredients:
 Instructions:
Put salmon in a grill basket or on mesh grill pan. 
Brush fish with the olive oil and sprinkle with herbs. 
Grill for 5 - 7 minutes a side, depending on thickness.

OR

put on baking sheet and roast in 400 F (200C) oven for 15 - 20 minutes, depending on thickness. 
In both case salmon will be done when it flakes easily, slightly pink in the center is fine. 
Remove from heat, sliding it off the skin if needed. 
Serve with:
Warm Tomato Leek Salsa:
Clean leek and slice thinly, using up to the thick, dark green. 
Roughly chop tomatoes. 
Snip herbs.
Heat oil in medium skillet over medium heat. 
Add chili powder and sauté briefly. 
Add leeks and sauté until tender, about 7 minutes. 
Add tomatoes and sauté 5 minutes longer.  Add herbs, stir and remove from heat. 
Keep warm (but not hot) until ready to serve.