Goat Cheese and Tapenade Pastries
Smoked Salmon with Lemon and Herbs
Barley with Mushroom Cream
Roasted Acorn Squash Slices
Salmon with Lemon and Herbs,
Lightly Smoked
Total time: 15 minutes
    This is a cross between smoking and grilling.  The wood chips are optional, but we like the added flavor, especially for salmon.  As always, with fish, cook until it just flakes easily, being careful not to let it on too long.  You could also roast the salmon, 400F (200C) oven.  If you do, add 1/2 tsp soy sauce to the lemon/herb mixture.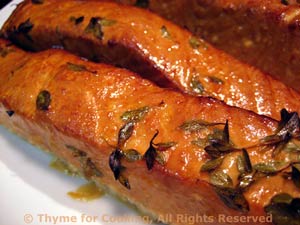 Ingredients:
2 salmon fillets, 6oz (180gr) each 
2 tbs lemon juice
2 tbs olive oil
1 tbs fresh lemon thyme or regular thyme leaves  

substitute 1 tsp dried

1 tbs snipped fresh parsley    

substitute 1 tsp dried

1 tsp kosher, sea or rock salt
wood chips for smoking - apple is nice See Barbecue Grills for more info
 Instructions:
In all cases, fish should flake easily but not be dry.  Slightly pink in the center is perfect.  Remove from heat and serve, sliding it off the skin if needed.