Egg Crêpes with Leeks and Ham
Salmon, Balsamic Glazed
Pasta with Olive Oil and Sage
Cauliflower with Paprika
Balsamic Glazed Baked Salmon
Total time: 25 minutes
     The honey-vinegar makes a lovely glaze with a hint of hot from the mustard.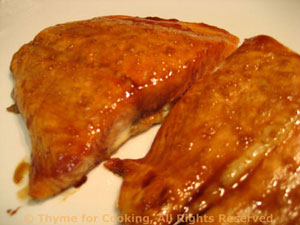 Ingredients:
2 salmon fillet or steaks, 6oz each (180gr each)
2 tbs Balsamic vinegar
2 tbs honey
1/4 tsp dry mustard
1/2 tbs olive oil
 Instructions:
In a small sauce pan heat the vinegar, honey, mustard and oil, whisking to combine.  When combined remove from heat and set aside. 
Put the salmon, skin side down, on a baking sheet. 
Brush with the honey/vinegar. 
Bake in 400F (200C) oven for 15 - 17 minutes, depending on thickness, basting with the honey/vinegar twice more.  Salmon will be done when it flakes easily, slightly pink in the center is fine.  Baste a final time and serve.