Asparagus with Prosciutto & Chevre
Baked Cod Provençal
Spanish Orzo
Sautéed Snow Peas (mangetout) with Green Garlic
Baked Cod Provençal
Total time: 30 minutes
    Green garlic, black olives and cherry tomatoes finish this simple, baked fish.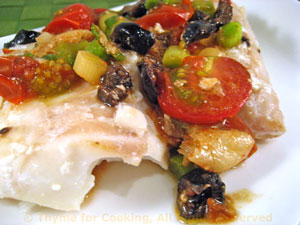 Ingredients:
12oz (360gr) cod, halibut, or other firm, white fish
2 tsp olive oil
2 tsp lemon juice
4oz (120gr) cherry tomatoes

about 1 cup

4 green garlic  

or 3 green onions and 1 clove garlic

12 black olives (1/2 cup)

I used dry-cured Greek olives

1 tsp Herbes de Provence
1 tbs oil
 Instructions:
Place fish on a baking sheet. 
Mix 2 tsp olive oil, 2 tsp lemon juice, drizzle on fish. 
Bake fish, 400F (200C) for 15 - 20 minutes, depending on thickness, until done.  Fish is done when it starts to turn opaque and flakes with a fork.
Trim and slice green garlic, using as much green as you can. 
Pit olives if needed and roughly chop. 
Cut cherry tomatoes in half.
Heat a medium skillet over medium heat.  Add oil, green garlic and sauté 2 minutes.
Add olives, tomatoes, thyme and heat through.  The tomatoes should just start to soften.
Spoon over fish and serve.