Tomato Flan with Couscous Salad
Pork and Celeriac Stew
Mashed Potatoes with Leeks
Tomato Flan with Couscous Salad
Total time: 35 minutes
       Tomato Custard!  Light, and easy to make, it's surrounded by a bit of couscous salad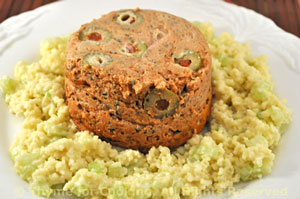 Ingredients:
2 eggs
2/3 cup, (6oz, 180ml) tomato sauce
6 pimiento-stuffed olives
1/2 tsp chili powder
1 tsp basil 
1/4 cup (1.5oz, 45gr) medium couscous
3/8 cup (3oz, 90ml) chicken stock
2 ribs celery, roughly chopped
1 tbs Greek yogurt
1 tbs mayonnaise
1 tbs Dijon-style mustard 
 Instructions:
Prepare ramekins: 

Butter ramekins and line the bottom with buttered wax or parchment paper.
 Thinly slice olives and lay on the bottom of the ramekins.

The flan:

 Whisk eggs, tomato sauce, paprika and oregano together well and pour into the ramekins, dividing evenly.

Put into a roasting pan with deep sides (I use a metal bread pan) and add hot water (hot tap water is fine) so that it comes half way up the sides of the ramekins.
Bake for 30 minutes at 450F (220C) They should be set, firm on top. 
Remove from oven and from hot water.
Run a table knife around the sides to loosen (if necessary). Put a small plate over top of ramekin and flip over. Remove ramekin, and paper from top (formerly bottom) of flan.
Put on plate and spoon Couscous Salad around.
Couscous Salad
Heat chicken broth to boiling.
Put couscous in a medium bowl. 
When broth is boiling pour over couscous, cover and let stand for 10 minutes... Do not stir it. 
Mix yogurt, mayo and mustard.  

When couscous is ready, add celery and fluff with a fork. Add salad dressing and stir gently.