Gazpacho de Andaluz
Pork Loin, Brined and Grilled
Pasta with Fresh Tomato and Green Olive Sauce
Fried Green Beans
Gazpacho de Andaluz (Andalusian Gazpacho)
Total time: 20 minutes
      This started as Traditional Gazpacho, but I found that I preferred it without the bread crumbs.  If you want to stay with tradition, add 1/2 cup of bread crumbs and enough water to thin to the consistency of a thick, cream soup, to the blender.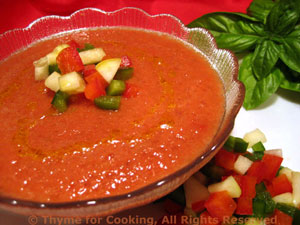 Ingredients:
 Instructions:
Peel the cucumber, onion and garlic. 
Roughly chop all of the vegetables, reserving 1 heaping tbs of the cucumber, onion and pepper, and 2 tbs of the tomato for garnish.
Chop the garnish a bit more. 
Put the rest of the vegetables along with the remaining ingredients, except olive oil, into a blender and purée, in batches if necessary.  
When smooth pour into a bowl.   Taste and adjust seasoning, adding salt, pepper, a bit more vinegar or sherry as desired. 
Chill.
Serve with the reserved chopped vegetables on the side as garnish to be added by each diner along with the olive oil.