Salad with Chevre and Walnuts
Grilled Salmon with Tarragon Mayonnaise
Couscous Salad
Roasted Asparagus
Salad with Chevre (Goat Cheese) and Walnuts
Total time: 10 minutes
    A classic summer salad at sidewalk cafes everywhere.  It's simple, bursting with flavor and, in a scaled down version, perfect for a summer first course... On the terrace perhaps?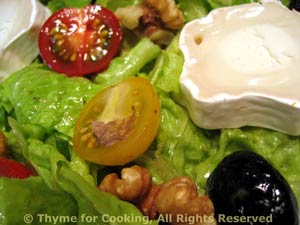 Ingredients:
 Instructions:
Tarragon Vinaigrette:
In small bowl whisk vinegar, mustard and lemon juice. 
Slowly whisk in olive oil. 
When incorporated add herbs and whisk to combine. 
Prepare lettuce and put into a medium bowl. 
Add vinaigrette and toss (using tongs) to combine. 
Arrange on 2 dinner plates. 
Slice six 1/3" (1cm) rounds of goat cheese and arrange on lettuce. 
Slice the large tomato into wedges or the cherry tomatoes in half and arrange on lettuce. 
Divide walnuts and olives and sprinkle on salad. Serve.