Warm Leek Salad with Prosciutto
Pan-Seared Tuna with Capers
Basmati Rice Pilaf
Cauliflower Cheese
Warm Leek Salad with Prosciutto
Total time: 20 minutes
     Leeks belong to the onion family but are much milder.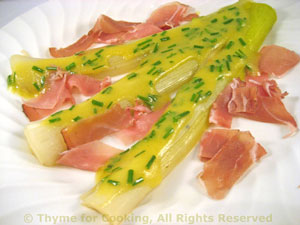 Ingredients:
 Instructions:
Heat chicken stock to a simmer in a large skillet.  It should be at least 1/2" (1.25cm) deep.  Add water if necessary.
Cut root end off leeks.  Cut tops leaving 2 - 3 inches (5 - 7.5cm) of pale green.  You should have 6 - 7 inches (15 - 17.5cm) of leek.  Cut leeks in half the long way and discard outer leaves.
Rinse under cool running water fanning the layers a bit to get out any remaining sand.
Lay leeks in a row in the simmering stock.  Cover and cook gently for 10 minutes.

Uncover and remove leeks with a tongs, draining and trying to keep them together.

 

You may not be able to, but do the best you can.

Divide the leeks and arrange on two plates.
Drizzle the vinaigrette over the top and garnish with Prosciutto.

To make Vinaigrette:

 Combine mustard and vinegar in a small bowl.

Slowly whisk in olive oil.
Stir in chives.