Baked Goat Cheese with Red Pepper Sauce
Roast Cornish Hens with Herb Sauce
Potato and Garlic Gratin
Sautéed Brussels Sprouts
Baked Goat Cheese with Red Pepper Sauce 
Total time: 15 minutes
   The slightly pungent goat cheese goes well with the slightly spicy red pepper sauce..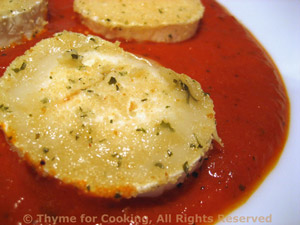 Ingredients:
 Instructions:
Slice small cheese into 6 rounds.   Each round should be between 1/4 and 1/3" (.75 - 1cm) thick.
Mix bread crumbs and basil together on a plate.
Dip both sides of the cheese in the crumbs and place on a nonstick or lightly oiled baking sheet.
Bake, 400F (200C) for 2 - 4 minutes, just until you see the tops sink slightly or cheese ooze slightly.  If it hasn't happened after 4 minutes, take them out anyway - they're ready.
Gently heat Red Pepper sauce in a small saucepan.
Stir in tomato paste, vinegar, basil and simmer a few minutes to blend flavors

To serve: 

Spoon the Red Pepper sauce onto 2 plates. Top with 3 slices of goat cheese and serve.
Red Pepper Sauce: 
Roughly chop pepper, onion and garlic. 
Sauté pepper, onion, garlic and chili powder until vegetables are soft.
Add chicken stock, vinegar, cover and simmer 5 minutes. 
Purée in blender with as little of the stock as possible. 
Pour sauce out of blender into a small bowl and stir in yogurt.