Artichoke and Olive Mini Frittatas
Warm Salmon Salad with Spanish Rice
Artichoke and Olive Mini Frittatas 
Total time: 35 minutes
    Mini Frittatas are very versatile:  They can be eaten hot, warm or cold; with a fork or the fingers; seated at the table or wandering around a party.  They are great for picnics and any event that needs food prepared in advance.  They're good the day you make them and the day after.  And they're delicious!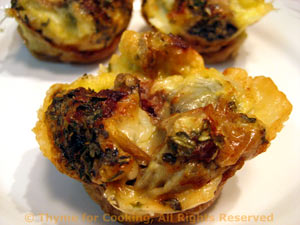 Ingredients:
 Instructions:
To pit olives: Place them on a board, lay the blade of a heavy knife flat on top and smack the knife, smashing the olive.  This cracks them and the pits can easily be picked out.  You could also use a meat pounder.