Hunter's Eggs
Baked Salmon with Lemon Mayonnaise
Creamy Polenta with Bacon and Sage
Broccoli with Butter and Herbs
Hunter's Eggs
Total time: 25 minutes
   This is a variation on a Basque dish of peppers and tomatoes. It's a simple dish, with just a few ingredients but bursting with flavors.  The name comes from two types of hunters in our fields this time of year: mushroom and wild boar.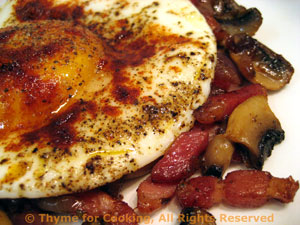 Ingredients:
3oz (90gr) mushrooms
1 onion
2oz (60gr) bacon 

2 - 4 slices

2 tsp olive oil
2 eggs
1 tsp paprika,  (smoked is nice)
pepper
 Instructions:
Clean mushrooms and slice thickly. 
Roughly chop onion. 
Cut bacon, crossways, into strips. 
In nonstick skillet, sauté bacon until crisp.  Remove and set aside. 
Add 1 tsp oil and onion to skillet. Cook, over medium heat, until onions just start to brown, 7 - 10 minutes.
Add mushrooms and continue to sauté until mushrooms start to brown, 5 - 7 minutes longer. 
Return bacon to skillet and keep warm while cooking eggs.
In separate nonstick skillet heat 1 tsp olive oil.  When hot add eggs and fry, trying to keep a nice shape, just until the whites are set; they're meant to be 'sunny-side up'. 
Divide bacon/mushroom mix between two plates. 
Put an egg on top of each, sprinkle with paprika, pepper and serve.