Eggs Pipérade
Total time: 25 minutes
   The spicy onion, green pepper and tomato is a Basque dish but we ate it often in Andorra, which has more of a Catalan influence.  With the addition of eggs (optional in Basque country) the dish is reminiscent of the Mexican Huevos Rancheros, but without the tortilla.  For breakfast or a light lunch serve with 2 eggs.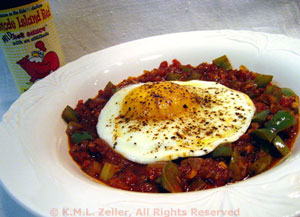 Ingredients:
1 medium onion
1 rib celery
3 cloves garlic
1 small - medium green bell pepper
2 cups (15oz, 450gr) whole tomatoes, drained 
1 1/2 tsp chili powder
1 tbs Worcestershire sauce
1 tbs Balsamic vinegar
2 tbs red wine
1 tsp dried oregano
1 tbs olive oil plus 1 tsp
hot sauce as desired
2 eggs
 Instructions:
Chop onion and celery; mince garlic; roughly chop green pepper. 
Drain tomatoes, discarding juice or reserving for another use.  Roughly chop tomatoes. 
Heat 1 tbs oil in a medium nonstick skillet.  Add chili powder and sauté 1 minute. 
Add onion and celery; sauté 5 minutes. 
Add pepper and garlic; sauté until tender, about 5 minutes longer. 
Add tomatoes, wine, vinegar, Worcestershire and oregano, reduce heat and simmer, uncovered, until tomatoes turn into thick sauce, about 10 minutes. 

The eggs:

In a separate nonstick skillet heat 1 tsp olive oil. 
When hot, add eggs and fry, trying to keep a nice shape, just until the whites are set; they're meant to be 'sunny-side up'. 

The finish:

Divide onion/pepper mix between two flattish soup plates. 
Put an egg on top of each, add salt, pepper, and serve; hot sauce on the side.