Tomato, Mozzarella and Avocado Salad
Grilled Scallops with Lemon Ginger Sauce
Basmati with Lemon and Chives
Green Beans with Caramelized Shallots
Tomato, Mozzarella and Avocado Salad
Total time: 10 minutes
    The traditional Caprese Salad is just garden ripened tomatoes with Mozzarella de Bufala.  We added an avocado for a salad with the colors of the Italian flag...  Fresh mozzarella comes in a round, ball shape, packed in liquid, usually in a bag.  Save any leftover cheese in the liquid, in a small bowl.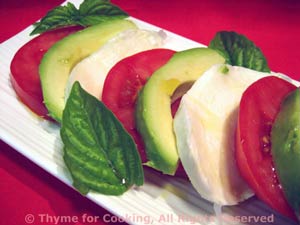 Ingredients:
4oz (120gr)  Mozzarella di Bufala if you can get it
1 - 2 garden ripe tomatoes
1 small avocado
1 large handful fresh basil
salad olive oil
Balsamic vinegar, optional
 Instructions:
Select 2 lovely, large dinner plates.
Slice mozzarella and tomatoes. 
Cut the avocado, remove pit and cut into slices. 
Tear large basil leaves in half, leave small ones whole.
Arrange tomato, avocado and mozzarella slices artfully on  the plates. 
Add basil leaves. 
Serve, with oil and vinegar

(optional)

on the side to be added by each person to taste.  
Note: if you have nice cruets for the oil and vinegar use them.  If not small bowls with small spoons work fine - or, just put the bottles on the table.....