Butternut Squash Pecan Cups
Bacalao a la Marinera (Fisherman's Cod)
Rice Florentine
Butternut Squash Pecan Cups 
Total time: 40 minutes
    These are a little fussy to get out of the ramekins but the combination of flavors (and showy presentation) is worth the effort.  Butter, rather than oil, helps make it a bit easier.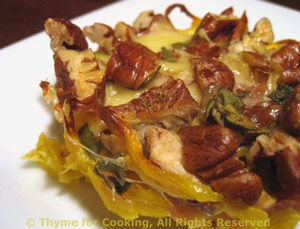 Ingredients:
 Instructions:
Lightly butter ramekins. 
Line the ramekins with the shredded butternut squash, working it up the sides as best you can. 
Bake for 15 minutes at 375F (180C).
Sauté bacon until crisp. 
Remove, drain on paper towels. 
 Very roughly chop pecans - in half or thirds. 
Briefly sauté pecans in bacon fat, just until hot and starting to get golden. 
Remove and drain on paper towels.
Remove ramekins. 
Crumble bacon and divided between ramekins. 
Add pecans, sage and cheese, dividing equally. 
Put a raw egg into each ramekin, on top of the filling.  
Bake for 10 - 15 minutes, depending on how you like your eggs.