Asparagus and Green Garlic Pastry
Baked Snapper with Lemon Sauce
Pimiento Barley
Carrots with Butter and Chives
Asparagus and Green Garlic Pastries
Total time: 25 minutes
    Puff pastry makes wonderful 'tarts'. The asparagus and green garlic (or green onion) are blanched quickly first.  Then it's just assemble and bake, for an easy but impressive first course.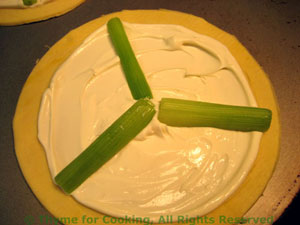 Ingredients:
6 slim asparagus spears, 5" (12.5cm) long
3 green garlic or green onions, 2.5" (6.25cm) long
2 - 4 tbs creamy goat cheese, cream cheese or Mascarpone
4 cherry tomatoes
1/2 sheet puff pastry
Chive Vinaigrette:
1 tsp Dijon-style mustard
2 tsp white Balsamic vinegar
2 tsp fresh snipped chives
3 tbs good olive oil
 Instructions:
Thaw puff pastry, if needed.  Cut out 2 circles, 6" (15cm) in diameter.  (Use a bowl as a guide).
Lay the cut pastry on a baking sheet.  Using a table knife, lightly score a line .5" (1.25cm) inside the edge of the pastry.
Trim asparagus to 5" (12.5cm).  Reserve ends for another use.
Trim green garlic or onion by slicing off root and and removing 1 layer.  Trim to 2.5" (6.25cm), using as much green top as possible.  Reserve the white ends for another use.
Bring 1 - 2 inches (5cm) of water to a boil in a skillet large enough to hold the asparagus and garlic in one layer. 
Add the asparagus and blanch for 2 - 4 minutes, depending on thickness.  Mine were as thick as my index finger and I did 3 minutes. 
Remove and refresh in cold water. 
Blanch green garlic or onions for 2 minutes.  Remove and refresh in cold water.
Cut the asparagus in half the short way. 
Cut the green garlic in half the long way
Slice cherry tomatoes into wedges.

To assemble:

Spread cheese on the pastry, out to the scored line. 
Laying them like the spokes of a wheel, radiating out from the center: put the asparagus tips at third intervals; put the asparagus ends next to the tips; put the green garlic or onion next. 
Put one tomato wedge in each 'space'.
Bake in pre-heated oven at 420F (210C) for 10 - 13 minutes, until sides of pastry have puffed around middle and is golden brown. 
Remove and put on plates.  Drizzle with Vinaigrette and serve.
Chive Vinaigrette:
Whisk mustard and vinegar. 
Slowly drizzle in oil, whisking constantly.  Add chives, whisk well.